Fiberglass Mesh for Exterior Wall Insulation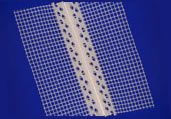 PVC Corner Bead with Fiberglass Mesh for Wall Plastering
The fiberglass mesh cloth can be used as attached part of the corner beads for construction of exterior wall thermal insulation system.
There are some common problems easily occurred with EIFS construction, such as the positive angle unstraight, unsmooth, and the angle of the wall easily to be damaged etc. Corner bead with fiberglass mesh fixed on sides are quick and effective solutions to all these questions.
Features of Using Corner Trimmers with Fiberglass Mesh: Using this new type of corner protector, there will be no need to use steel panel. It also can enhance the construction efficiency two to five times, reduce the construction cost,and guarantee the beauty and firmness of corner walls.
Common specifications:
1.Width:25x25 mm;
2.Length: 2m—2.5m;
3.The width of glass mesh:10cmx10cm ;
4.Packing: as per customers' requirements.