EIFS Fiberglass Mesh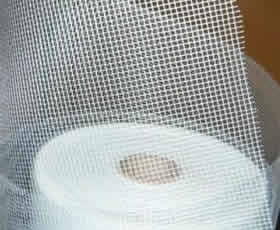 Non-Alkaline fiberglass mesh is basic material for reinforcement of walls and building lath system, especially for Exterior Insulation Finish System, simplified as EIFS or ETICS. The mesh is coated with special Resin or Latex, such as alkaline resistant latex and fire proof latex. The fiberglass mesh with such treatment gets high strength at horizontal and vertical direction. Gucheng fiberglass product is widely used as reinforcement mesh cloth in every kinds of wall reinforcement, stucco lathing mesh, External Thermal Insulating and Finish Systems(EIFS) or External Insulating Finish Systems (ETICS), boat building and so on. It can also be used as reinforcing fabric for cement, plastic, plaster, marble, mosaic tile bonding and stucco netting.
Base coat wall materials with C glass or E glass woven mesh fabrics, specially treated:
Gucheng fiberglass alkaline-resistance mesh fabric for EIFS building is on the basis of C-glass or E-glass woven cloth, then coated by acrylic acid copolymer liquid on the surface.
Features:
EIFS fiber mesh grid fabric possesses the properties of good alkaline-resistance, high strength, good cohesion, excellent in coating etc. Gucheng offer all sizes of fiberglass mesh stripes and tapes. It is of consistent high quality and flexibility. All mesh is alkali-resistant and fire-retardant. Available in white and several other colors.

Common Specification:
We list standard sizes in table below. Gucheng also supplies special fiber fabrics with extra strength, vinyl coating and fire proof property for various concrete reinforcement and backing screen uses.
Main

Specifications

Mesh size
mm

Yarn density
(tex)

Mass
g/m2

warp

weft

warp

weft

1

4×4-75g/m2

4

4

48/2

200

75±3

2

4×4-90g/m2

4

4

67/2

200

90±3

3

4×4-145g/m2

4

4

134/2

240

145±5

4

4×4-160g/m2

4

4

134/2

300

160±5

5

4×5-110g/m2

4

5

100/2

360

110±5

6

4×5-125g/m2

4

5

100/2

280

125±5

7

4×5-145g/m2

4

5

134/2

300

145±5

8

4×5-160g/m2

4

5

134/2

360

160±5

9

5×5-90g/m2

5

5

67/2

240

90±3

10

5×5-125g/m2

5

5

100/2

340

125±5

11

5×5-145g/m2

5

5

134/2

360

145±5

12

5×5-160g/m2

5

5

134/2

430

160±5

13

10×10-90g/m2

10

10

200/2

300

90±3

14

10×10-110g/m2

10

10

250/2

450

110±5