Welcome
GuCheng Fiberglass Mesh Factory is a China factory specialized in production of fiberglass products. Latex Coated Fiberglass Mesh supplied by GuCheng shows great alkaline resistant property and strength, widely used as reinforcing and anti-cracking material in cement, plaster, walls, buildings and other structures. Featured products listed as below:
Gucheng deals with fiberglass products processed in various types: charcoal window screen, retractable screen, no-see-um fiberglass insect screen, sunshade, pool screening, portiere, fiberglass self-adhesive tape and etc. We also supply black coated insect screen, vinyl coated polyester mesh and pet resistant mesh. Innovated styles of Gucheng Fiberglass Mesh are available for building reinforcement and drywall rendering mesh. We also have exterior wall insulation mesh and a designed fiberglass lath system for use in stucco, plaster, masaic tile, stone, portland cement, gypsum plaster, masonry and ceramic tiles. At GuCheng we have a vision: to improve the quality of human life by supplying good quality products. We use choice materials, first-class machine, we have the dedication and expertise to produce good quality products for our customers.
Gucheng China has advanced mesh weaving looms for production of Fiberglass Mesh and Fiberglass Screen for customers of Turkey, Europe and Ukraine, etc. Our staff has careful control of the quality through every processing step from fiber glass yarn arranging to the finished products. Normally, it takes six steps: Fiber Yarn Spooling – Warping – Fiberglass Mesh Weaving – Mesh Surface Coating ( or Tape Coating ) – Cutting – Packing.
Charcoal black fiberglass mesh can be supplied for aluminum windows or doors frames. The major mesh numbers of charcoal fiber fabric: 18x16 mesh, 18x14 mesh, 20x20 mesh. Plain Weaving Fiberglass Fabrics Strong or soft for different applications, such as pool shade, insect screen or window screening.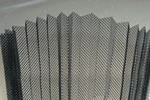 Plisse Fiberglass Mesh Screen has excellent Alkali Resistant property. Different from traditional window screen, plisse mesh or folding fiberglass mesh is produced special heating process and treatment. Plisse mesh window gauze can save space, be automatic cleaning and so on.